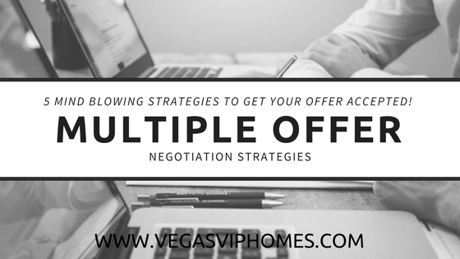 There's no denying that the real estate market is HOT! And if you're in the market to buy you've likely encountered multiple offer negotiations when your agent submits an offer on your behalf. There's really nothing more disappointing than losing out on a house that you've fallen in love with and wanted to call home.
The goods news is that there are a few strategies that you can employ the next time you make an offer that just may tip things in your favor with a Seller.
Make Your Best Offer At The Beginning
It goes without saying that every Buyer wants to pay the least amount for a home and every Seller wants to make the most equity when they sell a home. As a Buyer who may be competing against multiple offers, you want the Seller to know that you're serious about buying by making the best offer you can. If you can pay your own closing costs, don't ask for them to be paid by the Seller in your offer "just to see" if they will. If you can pay the list price don't offer $5000 under "just to see" if they'll accept it rather than counter you. In fact, sometimes you may want to offer higher than the list price by a few thousand just to strengthen your offer. By making your offer as strong as possible from the beginning you are showing your commitment as a Buyer and often times that will cut out the competition.
***Listen To Suebrett Tonic On The Vegas Real Estate Show Discussing Multiple Offer Negotiations***
Offer To Pay The Seller's Closing Costs
This strategy goes straight to the Seller who is concerned with their bottom line. By offering to pay a Seller's closing costs you would essentially be paying things such as state transfer tax, escrow fees and title insurance - depending on where you're buying there may be other costs - but these are basic. You would want to get specific in your offer on which items you would cover, but if it comes down to two offers that have the same purchase price and you are offering to pay these closings costs for the Seller you could win out in the negotiations with only an extra couple thousand dollars more out of pocket on your end because it would net the Seller more at closing.
Allow Time After Closing For The Seller To Vacate
If paying more isn't in the budget, then offering non-monetary incentives can often help your cause against other offers. Basically, your agent would put a clause in the offer allowing the Seller to remain in the home for a set amount of time after closing of escrow to vacate. Why is this effective? This would allow the Seller to collect their funds from the sale and possibly better schedule moving into a new home they are also closing on. Moving is expensive and hectic, sometimes giving the Seller a little breathing room for free helps them without costing you anything except time.
Write The Seller A "Love" Letter
I know. I know. This sounds really silly, but hear me out. Think about the times you've received a handwritten note that you weren't expecting and the effect it had on you...warm and fuzzy, right? Well, the same can work with a Seller. Often times you will never meet the Seller and you're just a name on an offer to them. Help personalize the situation by handwriting a note to include with your offer. A couple words on why you love the home, the things you will enjoy doing in or around the home, and a couple shameless compliments on decor or upgrades may help the Seller see you as someone who will carry on the happiness they experienced in their home. Some Sellers want their home to be enjoyed by someone like them. This little touch doesn't cost you anything but time, and it may make the Seller slightly more excited to negotiate with you over another offer...or outright choose your offer over another Buyer.
*Click Here To Download A Sample Seller Love Letter*
Consider Waiving A Home Inspection In Your Offer
This puts you as the Buyer at a bit of a risk so it's not my favorite tactic, but it can work when you're competing against a Buyer who has essentially made the same offer as you and you can't sweeten your offer using any of the other strategies above. There are certain contingencies in the offer for inspections that you could drastically shorten or waive all together. For the inspection part, you could shorten the due diligence period to a few days and get the home inspector out ASAP for the inspection. Your other option would be to waive it all together. If you were to waive it you would basically be buying the home in as-is condition. If you chose to have a home inspection after waiving the inspection clause, any defects would be your responsibility as the Buyer to repair after closing.
As with any real estate transaction you want to make sure your negotiations are successful. These are just a few of the tactics you could employ to compete in a tight market. Hopefully, one of these tactics or a combination will help you become a new homeowner that much faster! Happy home buying!
Whether you're local to Las Vegas or located elsewhere, The Tonic Group with Urban Nest Realty can assist you in finding the perfect home or find you the perfect agent to help represent you. Let our key relationships in the Las Vegas market help you get your offer accepted and get you into a home faster!